Most Insightful Advice from Movie Dads
June 3, 2016
When your Dad can't find the worldly advice you're looking for, you can always turn to a movie Dad to offer insightful advice. Usually the insight is into the character of that Dad- a goofy dad gives silly advice, like in Big Daddy, an imaginative dad gives fantastical advice, like in Big Fish, or a worried dad gives overly protective advice like in Finding Nemo. Sometimes movie dads offers true insight on life and his words are worth living by. Here's 26 movies, with great Dad advice by type of Dad Characters. 
Related: 50 Shades of Dad: Family Movies for Your Type of Dad
Cartoon Dads: 
Lion King (1994)
Mufasa: Everything you see exists together in a delicate balance. As king, you need to understand that balance and respect all the creatures, from the crawling ant to the leaping antelope. 
Young Simba: But, Dad, don't we eat the antelope? 
Mufasa: Yes, Simba, but let me explain. When we die, our bodies become the grass, and the antelope eat the grass. And so we are all connected in the great Circle of Life. 
Zootopia (2016)
Hercules (1997) Zeus: A true hero isn't measured by the size of his strength, but by the strength of his heart.
Finding Nemo (2003)
Goofy Dads: 
Big Daddy (1994) 
The Royal Tenenbaums (2001)
Royal: That's true. It's still frowned upon. But then, what isn't these days, right?
Mrs. Doubtfire (1993)
Mrs. Doubtfire: [after being introduced to Natalie] I admire that honesty, Natalie, that's a noble quality. Never lose that, because it often disappears with age, or entering politics.
Armed Dads:
Thor (2013)
Odin: A wise king never seeks out war. But he must always be ready for it.
Kick Ass (2010)
Damon Macready: [walking up to her as she pulls the bullet out of her bullet-proof vest hidden underneath her jacket] How was that? Not so bad. Kinda fun, huh? Now you know how it feels. You won't be scared when some junkie asshole pulls a glock.
Related: Celebrities who became Dads in 2016
The Dark Knight Trilogy (2005-2012) 
 
Passionate Dads:
Pursuit of happiness (2006)
Christopher Gardner: Don't ever let somebody tell you… You can't do something. Not even me. All right?… You got a dream… You gotta protect it. People can't do somethin' themselves, they wanna tell you you can't do it. If you want somethin', go get it. Period. 
My life (1993) 
Bob Jones: There are basically two schools of shaving, OK: Down, like that, or up, like that. Never, I repeat never, sideways, like that.
Related: How to Be a Cool (Hipster) Dad 
To Kill a Mockingbird (1962)
Atticus Finch: You just hold your head high and keep those fists down. No matter what anybody says to you, don't you let 'em get your goat. Try fighting with your head for a change.
The Astronaut Farmer (2006)
Boss Gangster Dads:
John Q (2002) 
John Q: ...your word is your bond, son, that's all you have. And money, you make money if you get a chance. Even if you gotta sell out every once in a while, you make as much money as you can. Don't be stupid like your father.
The Godfather (1972) 
Don Vito: A man who doesn't spend time with his family can never be a real man. –Don Vito Corleone (Marlon Brando), 
Fantastical Dads:
Big fish (2003)
***
***
Inception (2010) 
Stephen Miles: It'll take more than the occasional stuffed animal to convince those children they still have a father.
Star wars: Episode V – The Empire Strikes Back (1980)
Foreign Dads:
Bicycle thief (1948)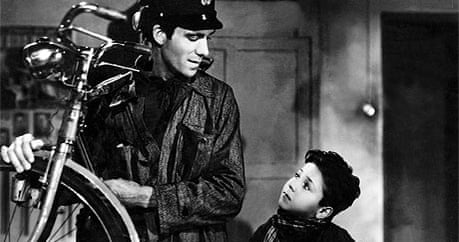 ***
Dads with Daughters  
Juno (2007)
Mac MacGuff: Look, in my opinion, the best thing you can do is find a person who loves you for exactly what you are. Good mood, bad mood, ugly, pretty, handsome, what have you, the right person is still going to think the sun shines out your ass. That's the kind of person that's worth sticking with. 
10 things I hate about you (1993) 
Walter Stratford: You're 18, you don't know what you want. And you won't know what you want 'til you're 45, and even if you get it, you'll be too old to use it.
 ***
Walter Stratford: You know fathers don't like to admit it when their daughters are capable of running their own lives. It means we've become spectators. 
Little Miss Sunshine (2006) 
Grandpa: A real loser is somebody that's so afraid of not winning, they don't even try
Father of the Bride (1991)
George: You know, Bryan, Annie's a very passionate person. And passionate people tend to overreact at time. Annie comes from a long line of major overreactors. Me. I can definitely lose it. My mother. A nut. My grandfather. Stories about him were legendary. The good news, however, is that this overreacting... tends to get proportionately less by generation. So, your kids could be normal.
The Descendants (2001)
Matt King: I don't want my daughters growing up entitled and spoiled. And I agree with my father – you give your children enough money to do something but not enough to do nothing. 
Is you dad's advice better than any advice from the movie dads? Drop his words of wisdom in the comments below! 
Related: A Super Sweet Father's Day Playlist for Dad;  50 Bad Dad Jokes That'll Make You Cringe
Save this article to Pinterest by pinning your favorite photo. Follow us on Instagram  to engraving inspiration and make sure to turn on your Facebook notifications so you don't miss out on behind the scenes news and offers!