8 Tree Huts You Need to Airbnb Right Now
April 14, 2016
Living in a tree house is not just a childish dream anymore. In fact, #TreeHutLiving is becoming an increasingly affordable (and insanely unique!) option for many young couples seeking a first time home. Today's tree houses offer modern luxuries for about half the price of the average single-family home. Plus, tree houses can be designed in an infinite amount of ways imaginable. They can be just as personalized and one-of-a-kind as Tree Hut watches. ;)
If you're not ready to commit to an arboreal lifestyle just yet, why not rent a tree hut for just a night or two? Let yourself reconnect with that childlike sense of wonder and feeling that anything and everything is possible. Here's a few of our favorite tree huts you must Airbnb:  
 1. Secluded Intown Treehouse
Where: Atlanta, GA
Price: $350 / night
Why: Don't let the expensive price of this tree hut dissuade you. This treehouse option is ideal for adventurers and romantics alike. The interior is carefully designed in a modern, yet rustic, fashion, and the entire hut incorporates string lights in the most enchanting and amorous way. There is also a hammock for mid-day naps and a rope-bridge for late night adventures. Take my money NOW.
 2. Tree Hut Above San Francisco Bay
Where: San Francisco Bay, CA
Price: $275 / night
Why: This rental price of this tree hut is a bit on the expensive side, but, hoisted a dozen feet in the air amongst an 150-year-old oak tree, it looks like it's straight out of a childhood fantasy book. Here, you can quite literally sleep among the trees, as they endearingly intrude the bedroom. The story behind this tree hut is also quite sentimental; the owners built it for their children 18 years ago and now generously rent it out to eager guests. However, be wary that you cannot host any non-registered guests here. But there are chickens, so let them be your company for the night.
 3. An Adirondack Mountains Retreat
Where: Middle Grove, NY
Price: $129 / night
Why: The circular stairs, crafted out of real branches, create a mystical atmosphere. Located in a secluded six-acre wooded area in upstate New York, this Airbnb is perfect for adventure seekers. Mountains and lakes, ideal for climbing and boating enthusiasts, surround the house. This hut also hosts an array of winter activities -- snowshoeing, cross country skiing, snowboarding, and skating, just to name a few.
 4. Bali Style Tree Hut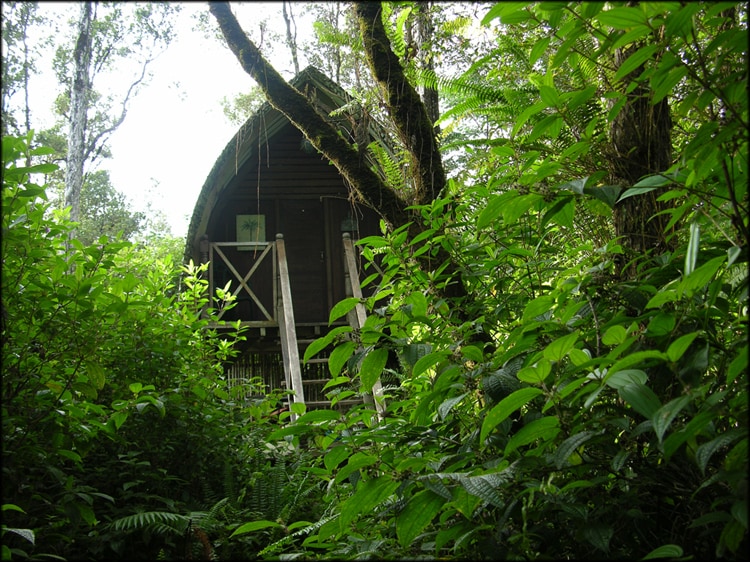 Where: Pāhoa, HI
Price: $40 / night
Why: This lodging is the most affordable of all the options so far! Yet, it's also truly unique in that it's literally a tree hut, adorably resembling the tree huts of Bali, Indonesia. This tree hut sits on stilts and blends into the gorgeous greenery. The tropical ferns surrounding the hut instantly transport you to the rainforests of Southeast Asia. The inside of the hut, overall, feels quite serene and zen. Also, if you ever feel like leaving the hut, Pāhoa is an incredibly charming town, remnant of pre-colonial Hawai'i, and is one of the island's best kept secrets.
 5. A Very Walkable Tree House
Where: San Diego, CA
Price: $79 / night
Why: This tree house is located more amongst the trees than on top of a tree itself. However, this quaint villa offers an outstanding view of the San Diego skyline and surrounding harbor. If you've never been to San Diego before, this hut is the perfect option precisely because of its walkability factor -- it's very accessible to the downtown area and the beach. Also, the shower is outdoors, so you can truly capture the 'nature experience'. There's also a tree strategically built inside the shower (for privacy, of course).
 6. Japanese Garden Style Tree Hut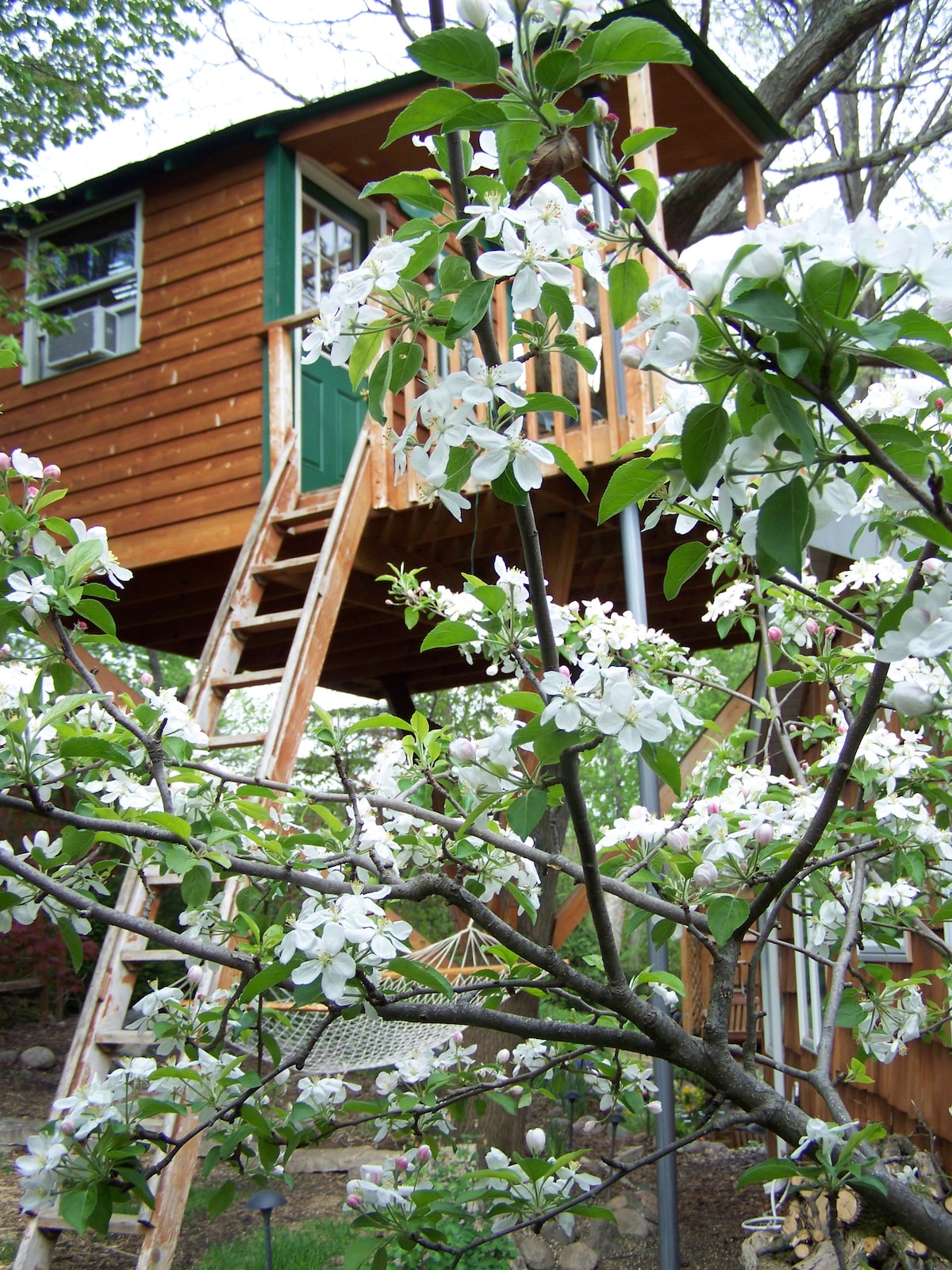 Where: Chicago Metropolitan Area, Illinois
Price: $195 / night
Why: Aptly entitled "Romantic Garden Treehouse", this treehouse emanates a very zen feel, despite being less than a half-hour away from downtown Chicago. This is a genuine treehouse, not a stilt house built among the trees, so it will gently sway in strong winds -- how comforting! However, the real selling point for this rental is the backyard. The landscape is designed as a Japanese tea garden, complete with flowing streams, koi fish, and colorful greeneries and maples.
...and if you're planning to leave the country:
7. Rainforest Getaway
Where: Cooper, Alajuela, Costa Rica
Price: $125 / night
Why: Perched high among the rainforest canopy, this tree hut accommodates 4 or more guests, ideal for larger families. Furthermore, the lodge is extremely close to Costa Rica's famed mineral-rich hot springs and rainforest trails. It is situated snugly in Costa Rican countryside, off the beaten tourist track. Plus, the tree hut has great architectural design.
8. Tree Hut Perched Above a Lagoon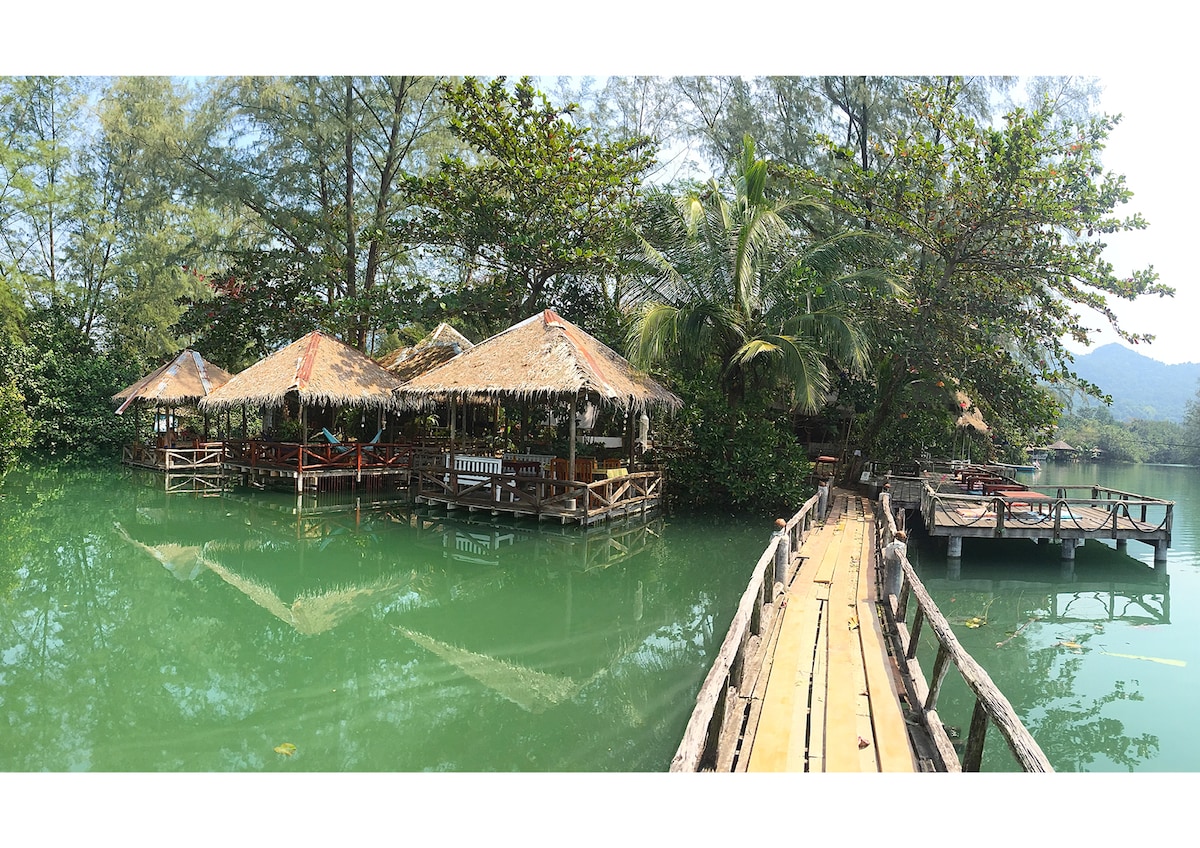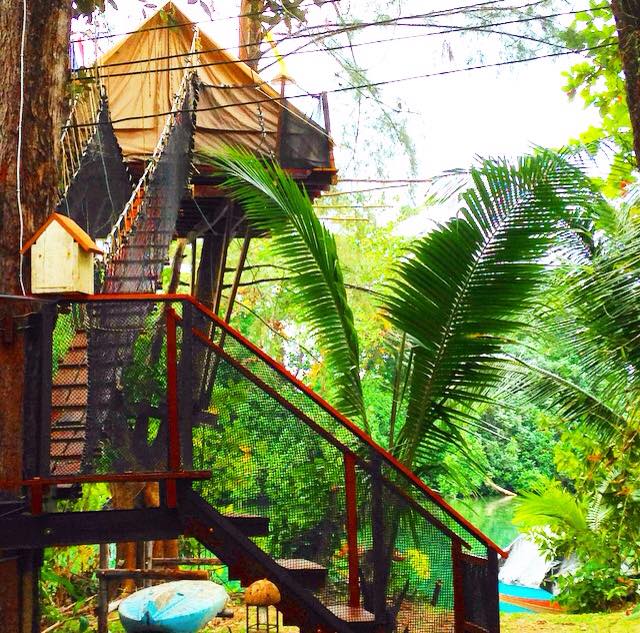 Where: Thailand
Price: $29 / night
Why: If you haven't noticed by now, there's a subtle difference between a tree hut and a tree house. This beauty, like the one in Pāhoa, is another tree hut. Built only 8 meters above a lagoon, it's low enough to appreciate the clear water, but high enough to prevent any unwanted mosquito attacks. An endearing porch swing sways over the river. Furthermore, while the hut is technically outdoors, it has a nice canvas roof to shield from tropical rain.
While I'm now craving a weekend getaway in a tree house, I'd still be homesick for San Francisco! For more #TreeHutLiving inspiration, check out our Instagram and website.
Would you rather live in a Tree Hut or a Regular House? Comment below!