Secret Spots SF Doesn't Want you to Know About - California Street Edition
June 21, 2016
POPOS, or privately owned public open spaces, are located all around San Francisco. These photogenic locations are perfect for soaking in some Vitamin D. Mainly located around the SOMA and Financial Districts, these spots are great for lunch breaks. Often rich with plants, each location feels like a mini-nature escape from the downtown cityscape. The list of places is long, so this week we're bringing you five excellent location around California Street in Downtown SF. The below 5 locations are within a 0.3 miles radius; you can walk from the first to the last in 7 minutes, but the places are so beautiful you'll want to spend hours here.  
POPAS are part of a city wide initiative to bring public spaces to privately owned and maintained locations. The sign designating such spots as POPAS wont be obvious. Often signs are placed somewhere less noticeable like at knee level, on the ground or above head height.
One California St.
Recently renovated, this building has a small space along California and Market street set up with a large multi level platform, featuring the address in the form of an art installation. The benches were replaced with permanent tables and chairs. The space is accessible at all hours. 
50 California St.
Just across the street from 1 California, this area is set up with large, geometric, stone planters, filled with plants and seating. The cafe within the building lines the patio with tables and additional seating. The pavement is decorated with green stone and pink granite. The area is accessible at all times.
101 California
Three tall, tiered pyramids dominate this plaza. Each level of the pyramid is decorated with potted plants and cushion seats. A gushing fountain lays between two pyramids and drowns out a bit of the street noise. Two restaurants on the building's ground floor open to the plaza with outdoor seating. Open at all times.
100 Pine St.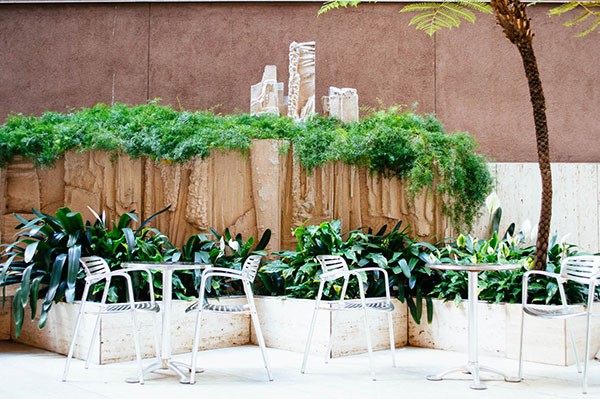 One of the more modern and hidden POPOS, this concealed garden is tucked between two tall building, so unfortunately it doesn't get any sun. But what it lacks in good weather it makes up in its decorations. The space is lined with planted containers, tables and chairs, which are centered around an art installation on top of travertine and black granite flooring. Enter off Font Street or by passing through the Lobby. Food service on site. Café closes at 3 p.m., the building and garden closes at 6:30 p.m.    
One Bush ST.
This garden surrounds the first postwar high-rise building — a "tower in a park." It features river rocks embedded in concrete, a fountain sculpture, which spouts and drips water, and various plants including willow and pine trees and evergreen ground cover. The garden, which lies below street level, resembles a moat. It is for visual enjoyment only; no seating has been provided, the river rocks are hard to walk on and no food service is available. Open at all times.
Related: AMAZING VIEWS FROM ROOFTOP GARDENS 
What's your favorite POPOS around the city? If you're not familiar with the 56 total locations, let us know, and we'll continue the post with the next edition of Secret Spots SF Doesn't Want you to Know About. 
Still reading? Then you must really love photogenic locations! Check out our Instagram for gorgeous shots of San Francisco. 
Save this article to Pinterest by pinning your favorite photo. Make sure to turn on your Facebook notifications so you don't miss out on behind the scenes news and offers!